Introduction.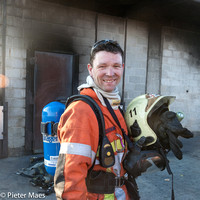 MAES_2011_RIT under fire_9082Pieter Maes during RIT under fire training at Illinois Fire Service Institute, Illinois, USA.
This article is about the parcours it took for some firefighters to launch a Fireground Survival course in their firedepartment (Brussels fire department, Belgium). In the beginning it is about passion, concern, motivation to grow, the will to be better and safer. But throughout the process this changes to vision, long term ideas, working out procedures. The article gives a good view on how we believe one could think about implementing Fireground Survival training. But that is also all it is: our experiences in Belgium. I do hope that this training will spread further then just Belgium. It is fair to say that in the most countries of Europe today this is not a topic. Sometimes it has to do with other priorities, lack budget, lack of time,... And all that is understandable. But isn't it time that...next to preventive measures, we also talk to our firefighters about reactive measures. Or do we still believe the naive saying "It won't happen in my department."? If you believe this, then why do you buckle up in your car? You do drive as safe as possible, don't you? And still you prep for a possible accident by buckling up. I believe we can improve the quality of "the safety-belts" that we have while fighting fires.
The article is also available in Spanish thanks to Juan Carlos Campana.
A short video with some impressions of a Fireground Survival training can be looked at here.
---
1. In search of solution.
In 2011 four firefighters of the Brussels fire department went to Champaign, Illinois (US) to follow a RIT Under Fire Training. This followed after several other trainings about RIT operations on different locations in the US. RIT is the acronym for Rapid Intervention Team. This is part of the American answer to the many fatal accidents during interventions. The goal of RIT is to have a rescue team on standby exclusively for firefighters for when they get in trouble. They have to be able to respond quickly to any firefighter or firefighters in trouble.
MAES_2011_RIT under fire_8926Learning how to evacuate a colleague firefighter over a ladder.
After these trainings we asked ourselves the question which part of the RIT-concept should be launched first in Belgium. Because, let us be honest, we are not at all prepared for that day when a firefighter gets in trouble. Not in Belgium and probably not even in most parts of Europe. Just look at the radio procedures: sending out a mayday. Which department in Europe has this procedure written down in their SOP's (standard operating procedures)? Are there any departments actually training this? There is, I believe, no discussion that calling for help in a clear, orderly and efficient way will make a if not the difference. But, very often this is one of the first things to go wrong. And then we are not talking about the simple skills that can improve your chances on survival. Which firefighter has already seriously thought about and trained on self-rescue techniques? Which incident commander has already taken a moment to think about the necessary actions to take when he receives a mayday from one of his firefighters? How are you going to react, what has to happen? It is worrying that we are telling how dangerous the job of a firefighter is but that we don't prepare at all for the moment that one of our own gets in trouble and needs help.
We have an explanation for this in Europe. We focus on prevention. We study fire behavior, we learn to understand and to act pro-active, we anticipate. Off course the priority has to stay: don't get into trouble. Know your big classics: Compartment Fire Behavior, nozzle skills, BSAFH, SCBA,… But even with all these skills and knowledge you can't avoid accidents. And history learns that they do happen, in every European country. Maybe the time is right to start searching for the appropiate answer when a firefighter mayday is calling a mayday.
2. The Belgian answer.
MAES_2011_RIT under fire_9095Ready to enter first floor to search for the colleague that called the mayday.
With the knowledge from the States we asked ourselves what would be useful for in the Belgian firefighting context. Right awayit was clear that we had to start from scratch: first the basic skills that will improve the safety of every single firefighter. Our opinion is that we would improve overall safety faster, on a wider scope and with less money this way then with choosing for training full RIT operations. This is illustrated by the research from Steve Kreis[i] and the Phoenix supermarket case[ii]. We choose to split the RIT-concept up in different phases. And phase one is improving the individual skills of every firefighter. Those skills are included in the modules: the mayday, air management and fireground survival. These three subjects (mayday, air management and fire ground survival) are in the rest of the article referred to as the Fireground Survival training. Our hope is to eventually reach every individual firefighter in Belgium with the Fireground Survival training.
If you want to do this you can't go around the state firefighting schools. Every province in Belgium has one, nine in total. They are logical partners in this quest. But… in Belgium you can't just kick of a new training over night. And I am guessing it will be similar in other countries. On the other hand we found it important that the training would start as identically as possible in the different schools and departments. We wanted that every firefighter would get the same Fireground Survival training. For this we had to corporate with the ministry of Interior Affairs and the Federal Support & Knowledge centre for fire departments (Kenniscentrum voor de brandweer van het FOD Binnenlandse Zaken). It is they that have to evaluate a new training. For this evaluation a task-group was started at the end of 2011 and at the beginning of 2012 a pilot-project was launched within the Brussels fire department.
Before we could really start we had to spend some days with hammers, nails, screws,… We had to construct the modules that we needed for the practical trainings. And this was a trial and error process. Because we also had to find out what the best measurements are for our specific personal protection gear (Gallet helmet, SCBA from Dräger,…). This was something that quite often came down to one centimeter more or less. There is for example a major difference in helmet between the US and Belgium and our SCBA bottles are a bit larger. One centimeter too short and the exercise became impossible, one centimeter too much and it wasn't an exercize any more. The composing and perfection of the modules was done under the supervision of sergeant Patrick Vanderweyen (Brussels fire department). After quite some days of experimenting, adjusting and try-outs we eventually had the 10 modules that we needed for our training.
3. Pilot project at the Brussels fire department.
Before we could really kick off the pilot project there was a last test to pass within the Brussels fire department. We had to convince our officers, chiefs and the labour unions. Before they would give us the green light they wanted to know what this training was about and some had to be convinced. For this we organized two test days. Several officers and members of the unions participated in these days. Their experiences and feedback was almost unanimous positive. The participants were convinced that it made sense to offer this training to the firefighters of the Brussels fire department.
One important feedback was that we had to ensure that every firefighter participating in the training should have passed (with success) their physical tests. This to make sure that every participant can safely work with an SCBA. It was also decided to have a first aid kit and extra oxygen readily available during the training. We never needed to use these during the test period.
Firefighter putting on his SCBAFirefighter putting on his SCBA ready to start a training.
Within the Brussels fire department each firefighter has to follow a total of six days of training every year. Three of these days are imposed by the department and the other three days the firefighter can make a choice out of a different trainings offered by the department. Starting in 2012 the firefighters from the Brussel fire department were invited to follow a day of Fireground Survival training within their annual training days. During the year 2013 every firefighter even received a short introduction of two hours within the three imposed days of training. It was also decided that new recruits would receive a full day of Fireground Survival training near the end of their training within the Brussels fire department.
During 2012 and 2013 around 30 full days of Fireground Survival were given. This means that we reached about 300 firefighters. During each training two instructors were present. We have seen participants from every rank and all ages. From firefighters to batallion chiefs and from 20 years old to 50 years old. Also in years on the job we had a broad range of participants. Some participants had over 20 years of experience with their SCBA, others just a couple of months. We managed to make the training interesting and usefull for all of these participants. The Fireground Survival training was experienced as a challenging training with a positive learning outcome. Even the more experienced, 'older' firefighters, often stated that they had learned to use their SCBA more in depth then ever before in their whole career.
The Fireground Survival training consist of a short theoretical introduction, an instruction and excersize moment on the training-module followed by the practical training by the participants on the Fireground Survival course. In contrary to what we often have seen in the US we choose not to add extra stress. It became obvious that the participants reached quickly enough the borders of their comfort zone while working with SCBA. The stress added up by itself. This is why we focused on a calm and conscience progression through the Fireground Survival course. The participants had to focus on the problems and to resolve them calmly. If you add extra stress early on there is a real risk for a freightening or panic experience. This will result in a negative learning experience. This is the opposite of what we aim for. The goal is a conscience-making experience on which the participants can count when they get in trouble for real. Panic shouldn't be part of this. A day of Fireground Survival training should be so positive with possibly even a fun-factor that the participants are motivated to come back to progress on their first experience. If participants manage to stay calm (in training as in real life) they will make a better judgement of the situations, they will have better and more efficient reactions and there is a better chance to get out of the trouble.
Brussel Fire Department recruits NL 2013 - 2014Recruit firefighters from the Brussels fire department on a RIT fireground survival and air management training.
Thanks to this approach, with no set limits nor generalized goals, aimed on the individual positive learning curve (no extra stress, no time limits, supportive coaching,…) we were able to send almost all our participants home with a success experience. And this even while we very often received the feedback that they went to their personal limits and quite often a little further.
We also found that repetition, following the training multiple times, doesn't get boring. Participants were asking themselves to come multiple times. It is a very rewarding factor. It is a physically and mentally strenuous day. And so if a participant has a bad day, this will be noticeable. To have the opportunity to follow the training again, after a better night of sleep for example, will make a real difference. Also the participant can won't have to start from scratch. He or she will actually continue to build on the last experience and skills learned. This is something we noticed every time a participant came multiple times. It also offered us, the instructors to add extra challenges if the participants agreed to it and without pressure from the instructors. So would we for example blindfold them or ask them to take gear with them on the Fireground Survival course. Through these steps, adding extra challenging, the role of the instructor is crucial. You could say that it is more a role of coach than a role of instructor.
4. Ready for an external review.
By the end of 2012 we felt ready for a first review by the ministry of Interior Affairs and the Federal Support & Knowledge centre for fire departments. For these evaluations we invited firefighters from fire departments other than the Brussels fire department. This was our real first test. How would these participants react to the training, to the way of coaching, the structure of the day, the practical trainings,… And all this with observers to see if the Fireground Survival training really filled in the expectations and should be implemented in the trainings offered to every firefighter in Belgium.
During these days we simulated scenario's that could happen on real interventions. The observers wanted to see that the skills and experience out of the training offered a solution or improved the reactions of the participants to an emergency. At random moments participants were expected to call a mayday. This often followed up on a sudden event like a collapse or fall simulated by the module. Or participants were challenged to stay calm while experiencing a lack of air. Solving a simple puzzle (for kids age 5) suddenly becomes a real challenge. And last but not least, participants were invited to go through a whole Fireground Survival course emptying a complete SCBA bottle. During this Fireground Survival course participants have to stay calm, think about solving the problems encountered, they should not force anything, if needed choose for a moment of rest, mayby decide to go backwards,…
Firefighter after the burn.A live fire training during a Compartment Fire Behavior session is fysical quite demanding. Firefighter need to have attention for active cooling and rehabilitation. Cooling down and good rehydration is crucial to keep these trainings safe.
The observers were positively enthusiastic about the training. For us, as instructors and driving forces behind the pilot project it was a very pleasant experience to read the feedback from the participants. Some quotes.
Christian Walckiers, corporal with the Lennik fire departement:
"What a fantastic experience! Learned several things that actually should be included in our basic firefighting training. It was a very educating experience. I wouldn't mind if it was a two day training. I appreciated very much the concept of allowing yourself some seconds of rest to then continue more calmly."
Gustaaf Cools, Adjudant with the Lennik fire department:
"This is basic knowledge that everyone needs to know. After the short theoretical introduction everybody is convinced how important this is so that you are able to help yourself or a colleague."
"I can only wish that I had had this training 20 years ago when I joined the fire department. Learning to stay in control of yourself, to stay calm, during several encounters with your personal boundaries during the day in a secure environment... It makes you to think different."
Patrick Van Droogenbroeck, firefighter with the Lennik fire department:
"If there are fire fighters with an over-the-top Superman-attitude a day of Fireground Survival training will bring them back to reality.
On a personal level I don't have any negative remarks. But I did learn quite some things that I could never have taught of. I really hope I'll never need the skills that I learned, but I feel very content now that I know them."
Jurgen Fets, firefighter with the Leuven fire department.
"This is one of the best fire fighter trainings that I have ever followed in my carreer as a fire fighter. It is physically demanding, you will need willpower and you must work in a correct with your SCBA. These are just some of the aspects that come up during a day of Fireground Survival."
Bart Gijzen, lieutenant with the Leuven fire department:
"This training was very valuable, especially because it gives you a very good reality check. I also found it very positive that everybody has the opportunity to work at his own pace in during his learning process."
5. What is next?
With the positive evaluation behind us the next challenge is coming up. Spreading this knowledge and experiences throughout Belgium with the aid of the provincial training institutes and together with the different fire departments. In this process we have to keep an eye on the quality side of the given trainings. As one of the participants wrote: "If there are any firefighters with a 'I-am-Superman'-attitude this training will bring them back to reality." And that is really something we find very important. It should be clear that in no way we want to give the message that we or the participants are some sort of Superman-firefighters. On the contrary, we hope to make firefighters more situational aware, help them to stay under control and to remain calm in difficult and stressful situations. This is not possible with a high concentration of macho-hormones. It speaks for itself that the way the training is given makes or brakes this approach.
We, the people that started the project, are ready to share their experiences and knowledge. We want to do this in a well thought manner. It will be necessary to find time and means to realize all this. We will have to train more instructors, trainers, coaches,… Courses have to be written out in detail, presentations have to be updated, risc analyses have to be written down. In other works, the work is not done yet.
But we should not forget that parallel with this development (the skills, the attitudes,…) we are also working towards an implementation on an operational level. And there is still a lot of work to do. We consciousness have chosen to start of by upgrading the individual levels of our firefighters and only after that to look at procedures and operations. The time is probably right to start working on that chapter. More about this in a next article.
It is also hopefull to experience the possibility to create and offer a new training within the Belgian firefighting context. We hope sincerely that the Fireground Survival training can be offered to every firefighter in Belgium. Mayby the skills and / or attitude learned in the training might just make the difference between going home all together or not. Let get to work all together to make our job as safe as possible.
I would like to thank all the people that have helped from far or closeby with the realization of this pilot-project and especially the members of the workgroup: Thierry Lefranc, Patrick Vanderweyen, Mike Clerebout, Bougard André, Emanuel Belaire and Scoubeau Thierry.
6. Update: the evaluation commission green-flags the Fireground Survival training.
Last tuesday February 25th, the ministry of Interior Affairs and the Federal Support & Knowledge centre for fire departments held a meeting to evaluate our last test-day (see above) of the RIT-project. Their judgement was unanimously positive and we are more than happy to be able to proceed to the next phase with our project.
Now that the Fireground Survival training has been accepted as valuable we have to see which components can be offered by who and integrated in which training. This means that we, again, have to negociate and work with commissions, Firefighting institutes, high commissions,… In other words, there still is a distance to cover.
Concrete we have to look which parts of Fireground Survival fit into the basic firefighting training. In the meantime the project will be presented to all directors of the nine firefighting institutes in Belgium.
But we are also convinced that one can work directly within the fire departments. In the end the material needed isn't expensive and the modules can me made by every fire department. We only have to make sure that there is enough support. We strongly believe that some basic fireground survival drills have their use and place in every fire station.
By going directly to the fire departments and offering them the opportunity to create some modules themselves we can reduce the cost per firefighter. Firefighters can train during the in station training hours, they don't have to go to a different place, the fire departments can make use of their own gear.
---
[i] "Rapid Intervention isn't rapid." By Steve Kreis January 12, 2003.
[ii] "Supermarket Fire Claims the Life of One Career Fire Fighter and Critically Injures Another Career Fire Fighter – Arizona", A Summary of a NIOSH fire fighter fatality investigation, July 25, 2002.